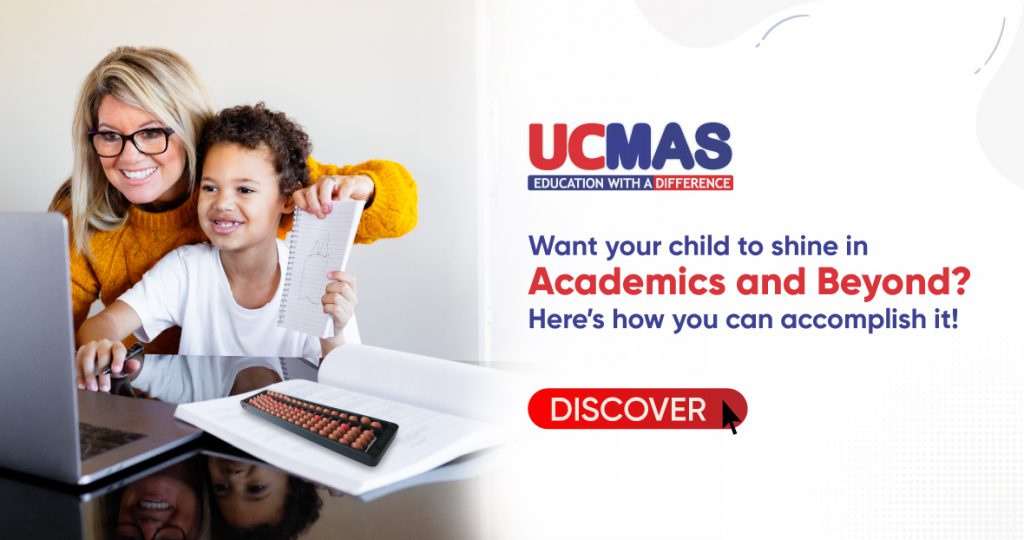 We live in a world revolved around numbers. They are important scientifically, economically and socially. It's an integral part of our life as these very numbers are manipulated to shed some light on detailed understanding of nature & eco-system, smooth political action and a strong distribution network for maintaining a higher standard of living. Numbers' presence can be seen in all parts and aspects of life which is why it's imperative to understand and love numbers.
UCMAS is an Abacus Mental Math program that helps your child fall in love with numbers and essentially math.
So, how does UCMAS do that?
It makes use of 'Abacus'- an ancient mathematical tool. The tool i.e. Abacus in itself looks like a toy making it appealing for children. The children are then taught the values of the beads in the abacus along with the formulas in order to teach them how to calculate on the device without them ever needing to use calculators.
What is UCMAS' philosophy?
To Inspire, To Strive & To Excel- UCMAS is passionate about developing a lifelong love of learning in their students with the aim to inspire their students to be the best version of themselves.
UCMAS might just be the only program that is so detail-oriented and focused about the needs of the children and the parents that they take ample of time to get to know each of their students and families on a personal level to know where the children stand and how they are supposed to get them to thrive in the program.
Not every child is same and UCMAS understands that very well. They have a specific child-centric approach where every child is treated and taught in a way best suited to them. Our highly trained instructors take their time with each one of them so they can grow their skills at their own pace.
An amalgamation of the Abacus and the modern instructional expertise is what sets UCMAS apart from other math programs. The curriculum is built and developed on years of global experience and successful results to stimulate child development and whole brain development while promoting learning and math.
Going strong for more than two decades, UCMAS has successfully established its reputation as one of the world's leading math programs. This reputation is built on their solid track record of trusted performance, their philosophy, and their care for their students and their families.
Now that you are aware about all the benefits of this amazing Abacus Mental Math program, then what are you waiting for? Get in touch today to know more about the registration process, and then you are all set to brighten up your child's life!